Our top 5 Uprooted best sellers and recommendations this Valentine's Day. We keep our designs fresh each year so that she doesn't receive the same design each year.
Don't see what you're looking for? We can create a custom design just for you! Below are our recommendations but we are happy to fulfill your specific requests! At Uprooted, that's what we excel in!
Give us a call to discuss your specific needs. 903.279.7742. Special requests orders should be placed prior to February 3rd to ensure availability of specific flowers. Floral orders placed after February 3rd will be subject to availability and designers choice. All orders will be accommodated and we will be accepting Valentine's Orders until we close on Valentine's Day! However, don't wait! GET YOUR ORDER IN TODAY!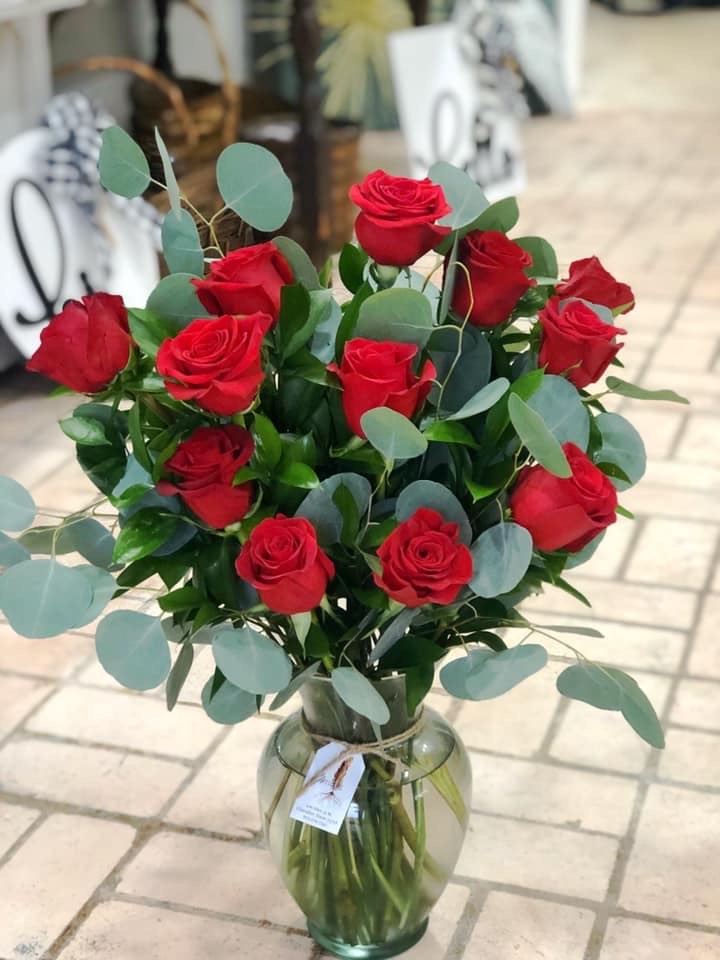 1 dozen red roses with mixed greenery including eucalyptus to give this classic Valentine arrangement an updated look. An Uprooted special that she's sure to love! 
Prices starting at $100. Upgrade with additional florals and greenery upon request.
Need a smaller version? No problem! We can accommodate your budget and give you a similar look! 1/2 Dozen rose arrangement $65. ***
This combination of roses, gerber daisies, and tulips let's your Valentine know you put extra thought into your order. An arrangement that's sure to stand out among the crowd this Valentine's Day.
Prices starting at $125. Love this arrangement but have a lower budget? Give us a call! We can accommodate your needs! ***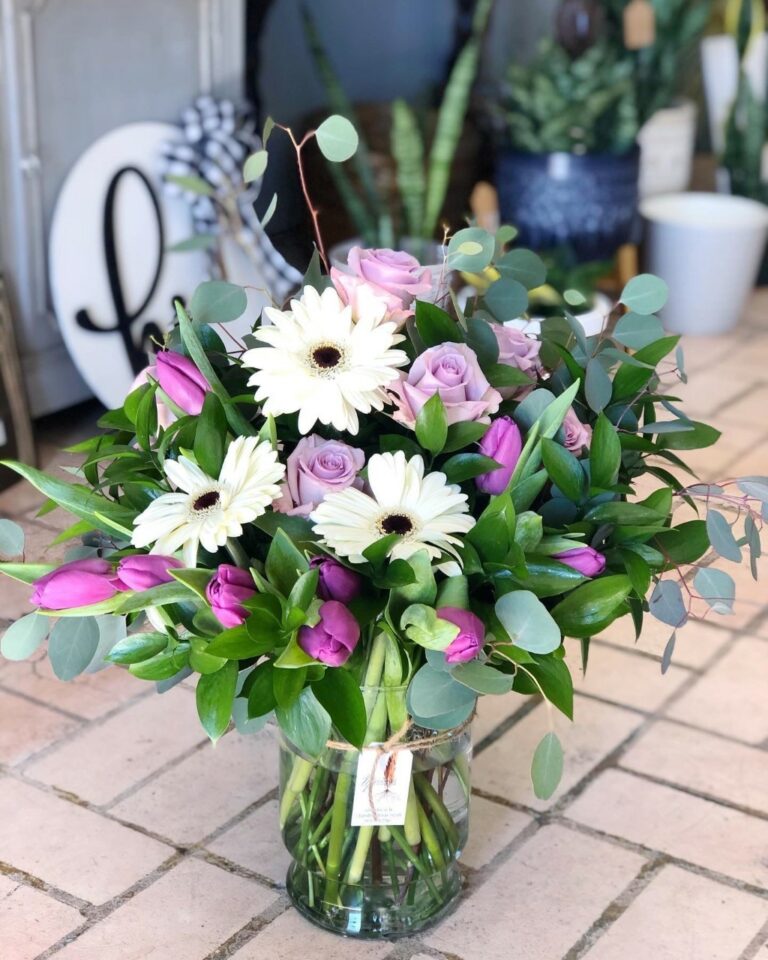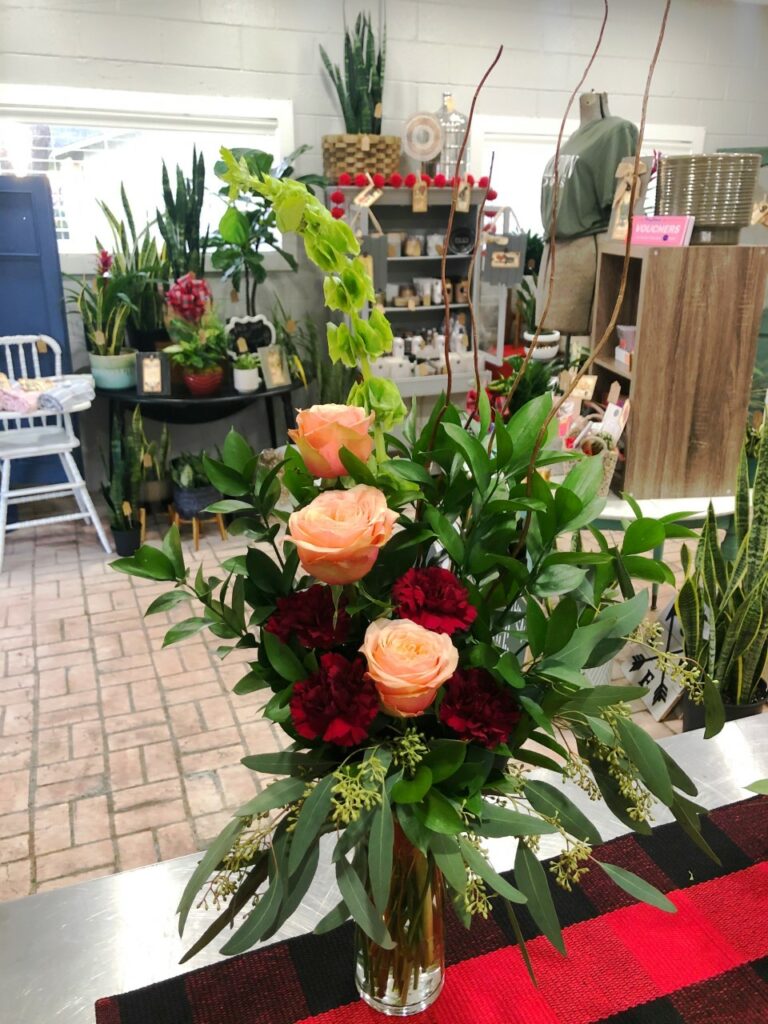 This modern design with fresh greenery and eucalyptus is anything but the normal and your Valentine is guaranteed to love standing out among the crowd. 
Classic. Elegant. Modern. We love everything about this design. Prices starting at $65. ***
This petite arrangement boasts with elegance and modern design. Roses with fresh floral accents and a mix of high end greenery, this style is shorter in height but not lacking style or design. 
A sweet addition to your Valentine's Day is what this floral arrangement offers.  Prices starting at $50. ***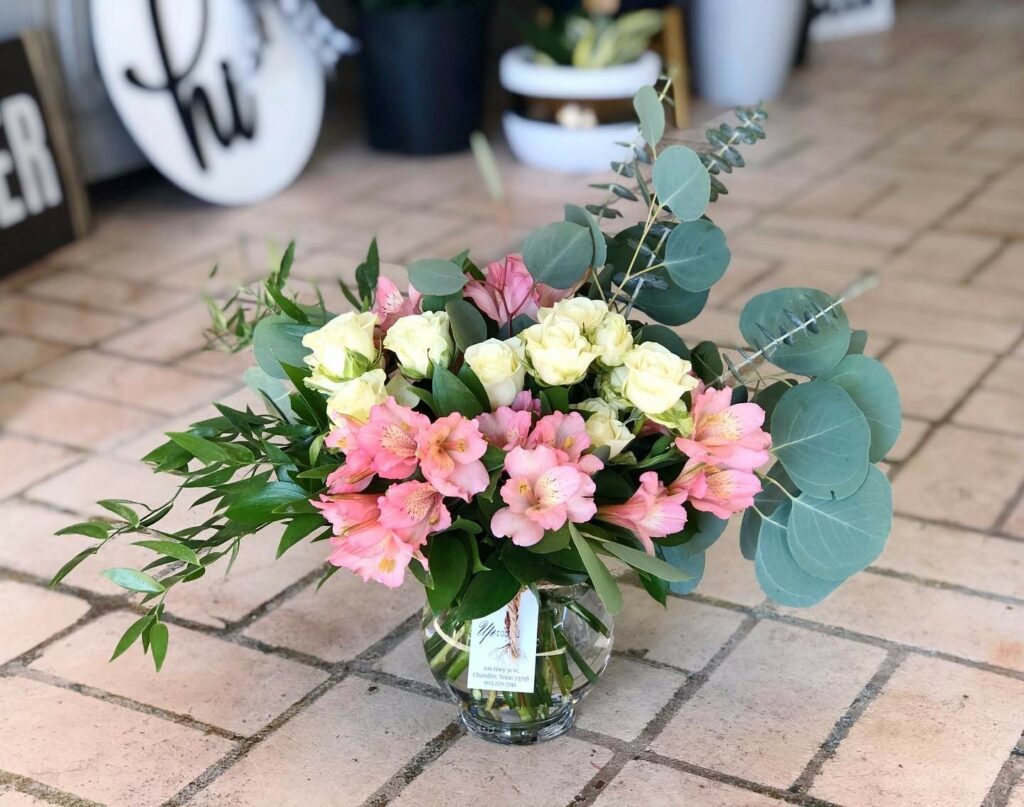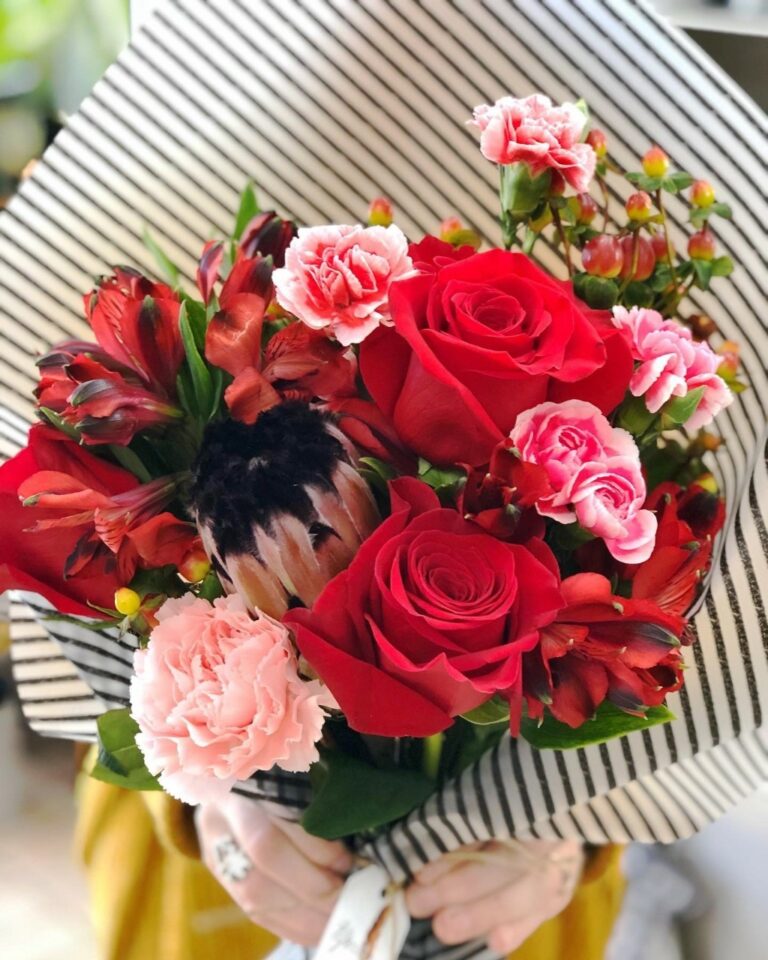 A wrapped bouquet is perfect for our walk in customers looking for a quick grab and go but not wanting to sacrifice HIGH END STYLE.
This unique combination of florals will be sure to catch her eye. Prices starting at $40. ***
***availability of all florals subject to change based on quantity of mass orders. Colors shown subject to change based upon colors available. Overall design style and floral choice will be accommodated. Substitutions of colors or floral selection based upon availability and designers choice for overall design appeal at designers discretion unless otherwise specified by customer for specific color requests, etc. 
Full size candy bars, sequined slap bracelets, sequined heart backpack clips, sequined plush hearts, lipstick pens, XOXO notepads, scrunchies, mini plush meerkat animals, bendable ninjas, candles, scented sachets (perfect for the young driver's car), and balloons on a stick. We have all the things for all the ages. From Pre-K To High School, we have you covered!
Give Uprooted a call! Prices so low you can't pass it up! And special delivery rates for all Brownsboro ISD campuses for non floral items ($1/gift bag or treat box). 
Let Uprooted create a Valentine treat box for your child. We have full size candy bars, a variety of trinkets, and the super popular hair scrunchies! These treat boxes are perfect for elementary age-jr high.
Super low prices to spoil your child this Valentine's Day! Contact us today to place your order, 903.279.7742! Items selling fast! Don't wait! Special delivery pricing for treat boxes to all Brownsboro ISD campuses this Valentines ($1/box).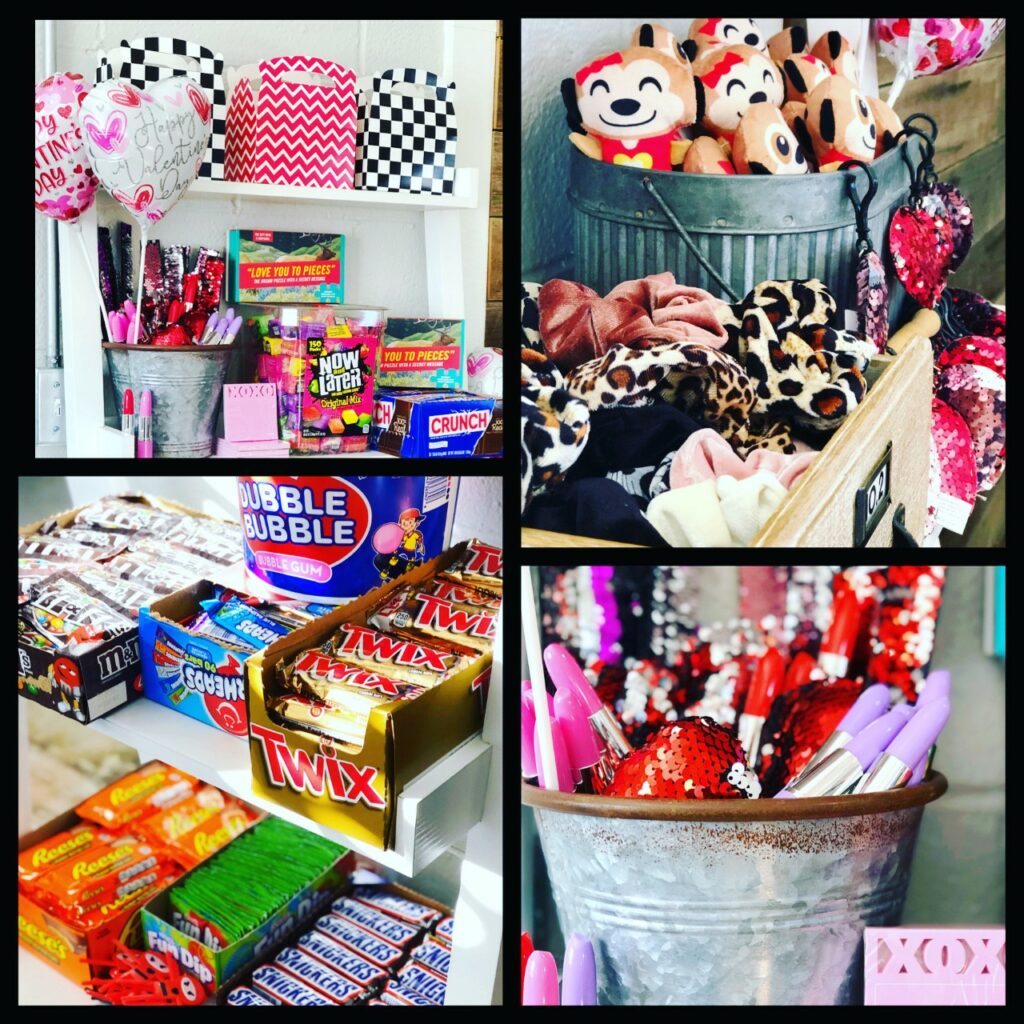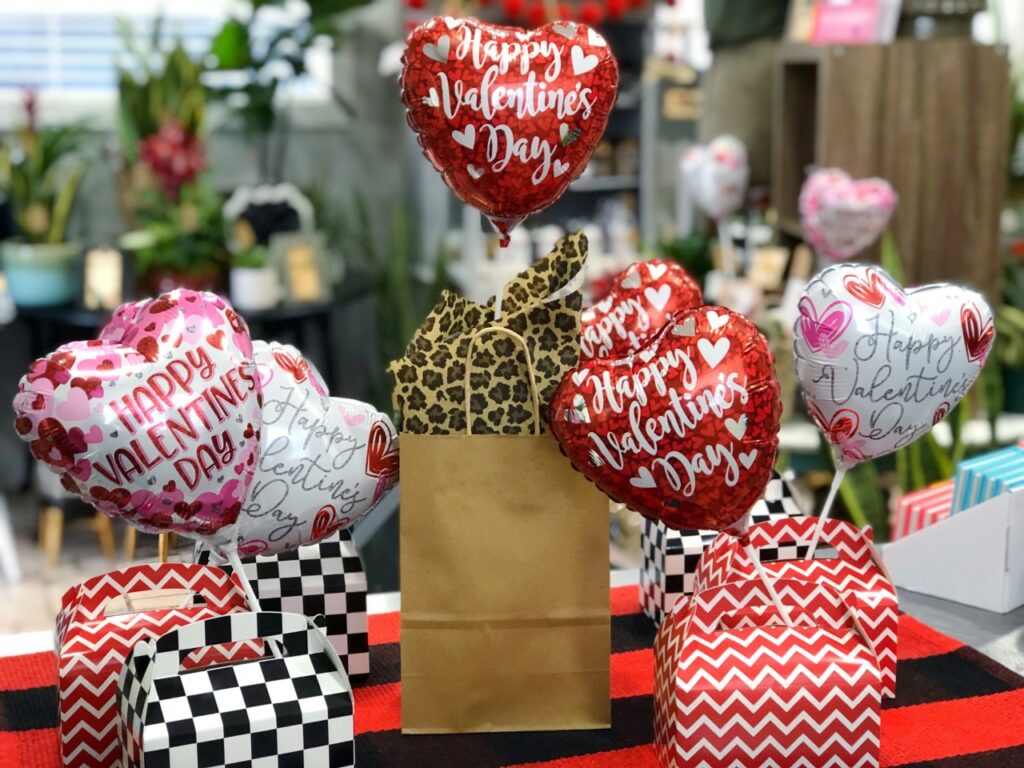 For your high schoolers we recommend flowers or a gift bag with one of our popular candles, candy, a scunchy and Valentine balloon!
Prices starting around $20 for a gift bag combo. Floral arrangements in a variety of sizes and prices to fit your budget.
Give us a call, 903.279.7742! We'd love to help you! Special delivery pricing for gift bags to all Brownsboro ISD campuses this Valentines ($1/bag). 
106 Hwy 31 W
Chandler, Texas 75758
Phone: 903.279.7742
Store Hours: M-F 9 a.m. to 5 p.m.
Available on Saturdays for weddings, events, and funeral work. Check out our Facebook group for current postings and info.